August Giving at Lexus of Route 10
Philanthropy is defined by the desire to promote the welfare of others, expressed especially by the generous donation of money to good causes. This August, Lexus of Route 10 is going show their philanthropic side by donating a portion of their profits to RosePetals a local not-for-profit organization. RosePetals is dedicated to assisting terminally ill children, and children with all types of illnesses, and their families through hospice counseling and assistance with life choices.
All of the Lexus of Route 10 customers during the month of August will be receiving a donation badge at the time of purchase which will be displayed in the dealership showroom.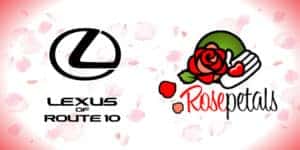 For more information on RosePetals please visit: http://www.rosepetals-hospice.org
You can also shop Lexus of Route 10 online or visit Lexus of Route 10 on Instagram or Facebook anytime.