Celebrity Motor Car Company to Cosponsor Montclair Food and Wine Festival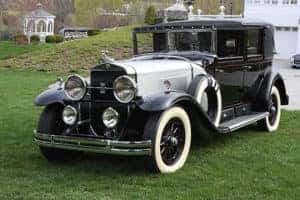 WHIPPANY, NJ – The Montclair Food & Wine Festival, which will take place at the Wellmont Theater on January 28, will provide patrons with a 1920's speakeasy theme, and what better way to help create that nostalgic feel than to have an actual 1929 Cadillac, parked outside the front entrance to the theater. Celebrity Motor Car is a major sponsor of the one-day food and wine tasting event, and it will be showcasing a number of its vehicles outside the theater, but the dealership group's CEO/Dealer Principal Tom Maoli will be lending the 1929 Cadillac from his renowned classic car collection to help bring a more authentic feel to the festival.
"The 1920s were known as the 'Roaring Twenties.' It was a time of great innovation and growth. But, just as important, it was an era known for some incredible automobile craftsmanship. I'm happy to lend an air of authenticity and what better than a movie star's personal chauffeur driven car, to the Montclair Food and Wine Festival," says Maoli.
The Montclair Food & Wine Festival website describes the event as being "reminiscent of the Prohibition Era, the evening will intertwine illicit libations coordinated by Amanti Vino, fine culinary bites from over twenty area restaurants, and the sultry sound of Trent Armand Kendall + Brass Illusion."
The event will raise money for MACHE, the Montclair Academy of Culinary and Hospital Education, a cooperative multi-grade community within Montclair High School, St. Joseph's Children's Hospital and Intensive Therapeutics of West Caldwell. The festival will also establish a scholarship program to enable underserved or disadvantaged youth from the Montclair area the opportunity to further their culinary, agricultural, gastronomic education, and careers.
More than a dozen area restaurants and a number of beverage vendors will participate. Ticket prices are $187 for VIP entry, which allows access to the festival from 6:30 p.m. – 10 p.m. Ticket prices for general admission (7:30 p.m. – 10 p.m.) are $97.
The Montclair Food & Wine Festival, Inc. was incorporated in September 2011 by of a unique group of community volunteers, local chefs, restaurateurs, and industry professionals. As food and wine enthusiasts, our Board of Trustees has designed a two-day event that will recognize, celebrate and share the culinary wealth and diversity of Montclair, while pursuing charitable and educational purposes –
Charities.
Celebrity Motor Car Company is one of the area's most respected sellers of luxury cars. Its dealerships include Lexus of Route 10, Maserati or Morris County, Alfa Romeo and BMW of Springfield and Maserati of Bergen County. Maoli is also known for his philanthropic work, supporting the Rose Petals Hospice for terminally ill children and their families, the Morris County Food Bank, the Interfaith Food Pantry, and St. Jude Children's Foundation , and most recently, he has allowed his Morristown property, Alnwick Hall, better known as the Abbey, to be used by the Women's Association of Morristown Medical Center, as a fundraiser for the hospital. The event will take place in May of this year.
For more information about the festival, or to purchase tickets, visit the event website: http://montclairfoodandwinefestival.org/.